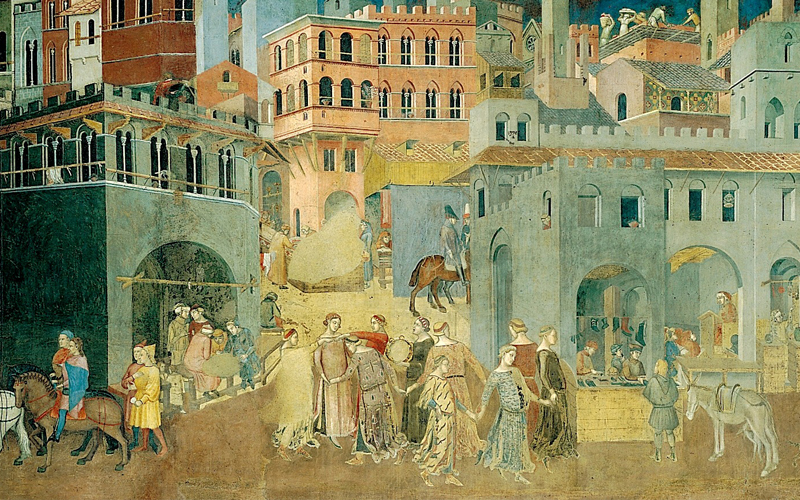 HISTORY
From generation to generation
Since the early Middle Ages, Piazza del Campo has been the center of the life and history of Siena, the place where the most important public events took place. For this reason, back in 1937, Senno Senni decided to open his restaurant where the heart of the city pulsed, in the gorgeous setting of Piazza del Campo, where the famous "Palio di Siena" is held twice a year.
Il Mangia restaurant stays in front of "Palazzo Comunale" and the ancient tower "Torre del Mangia"; the name of the restaurant derives from the tower : it dates back to 1300, due to the first bell ringer, Giovanni Ducci, who's habit of spending all his money in food and wine earned him the nickname "Il Mangiaguadagni" (The Money-eater) or "Il Mangia" (The Eater).
So, after more than 80 years, the most famous restaurant of Siena is still there, a bridge between past and present, managed by the fourth generation of Senni's family.
Apart from a small parenthesis of some years during the Second World War in which the room was first requisitioned by the German army that used it to the table for their officers and then, after the passage of the front, requisition for the table of allied officers, the restaurant has always counted among its customers characters of worldwide importance.
At his tables have dinners artists such as Salvador Dali, Salvatore Accardo and not least Severino Gazzeloni great friend of both Senno Senni and his son Luigi; actors who have made epochs and that will never be forgotten like Charlie Chaplin, Tyrone Power, Cary Grant and Vittorio Gasmann, steering wheels like Juan Manuel Fangio, Nelson Piquet and the very nice Sienese Sandro Nannini, singers like Claudio Baglioni, Sting and Madonna, princesses like Caroline of Monaco and kings like Gustavo VI Adolfo of Sweden, Federico IX of Denmark and the King of Italy Vittorio Emanuele III, but above all the thousands of anonymous customers who, year after year, returned to visit us again.
With over eighty years of history, the restaurant is undoubtedly one of the oldest in Siena, managed and managed by Senno until the sixties, until in 1970 passed the baton to his son Luigi, who was joined by his son Marco in 1979.
Even today it is Marco, together with his wife Tania and his daughters Ilaria and Benedetta – who represent the fourth generation of this family of restaurateurs – to run this historic restaurant.